Bandhab's General Assembly 2020
Bandhab is hereby inviting all members to the general assembly (GA) 2020. A new date has been decided for the general assembly 2020.
Date: Monday 22 June, 2020
Time: 06:00 PM – 07.30 PM
Venue: Stadionvej 33 ST.TH
2600 Glostrup
Denmark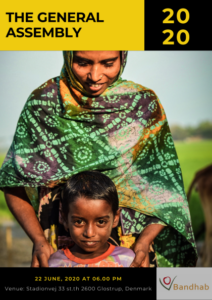 In accordance with the bylaws of Bandhab, the agenda of the meeting is as follows:
Election of chairman of the meeting
Presentation of the Board's report
Presentation of the audited accounts
Discussion of the coming year's activities
Incoming proposals
Introducing and reading of amendments to
the bylaws § 2 (purpose of the association)
Setting the membership fee
Election of board members and alternates
Appointment of auditors
AOB
The annual report and account will be sent a week in advance to the registered members. Approved account and annual report will be post on the website of Bandhab subsequently.
Due to practical reason, please register your participation to info@bandhab.dk.
We are also working on a solution that makes it possible to attend the general assembly online, for those who does not feel safe meeting up physically.
We hope to see you for the general assembly 2020.