Raminta's visit to Bangladesh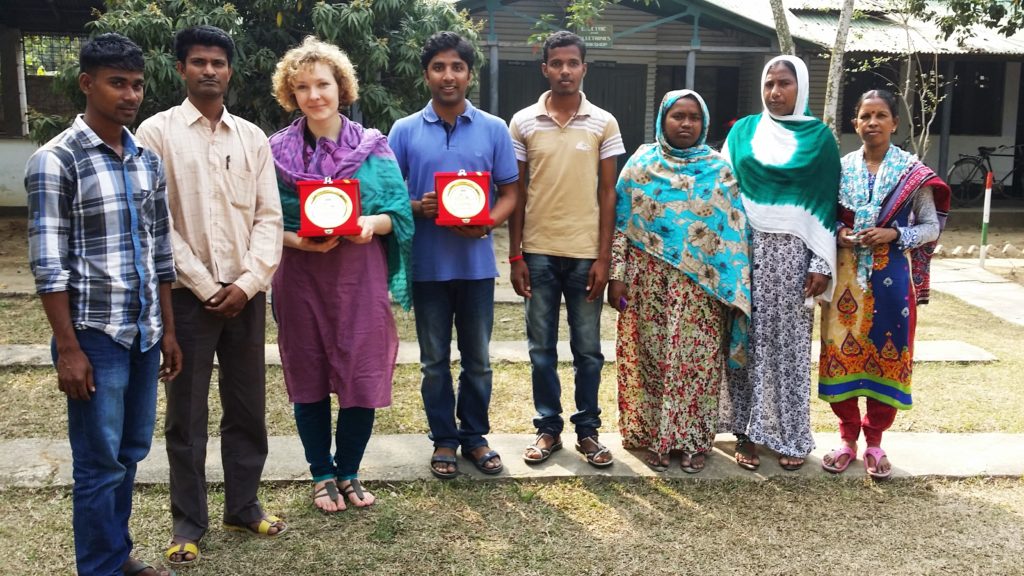 I was lucky and fortunate to have an opportunity to combine my final and largest university assignment with a great travel experience: I undertook a six-week trip to Bangladesh in order to collect data for my master's thesis, which was based on the Gono Kendra project. Since the project is located in two different sites, I got to travel throughout the country and meet a lot of different people. I experienced the most crowded, noisy, polluted and densely populated city in the world: Dhaka. Afterwards, I travelled to a remote village in the south, Joypurhat, which was surrounded by the greenest fields of rice and finally I spent ten days in Bagerhat, which was very close to a river delta, where for the first time I saw fish farms and mangrove forests where the roots of trees stick out from the ground.
Those six weeks were so diverse and full of exciting encounters every day. You could say that coming from Europe to Asia will always be an exciting experience, and yes, you would be right. But then again, I have travelled in Asia before, and I will still boldly maintain that Bangladesh is a very unique and 'raw' country. I call it 'raw' because it has not been 'cooked' for long in the 'pot of globalization'. It seemed that Bangladesh has not been influenced much by the western world.
Throughout my visit I saw just few foreign tourists. In the capital of 20 million people there were just a few tiny supermarkets because everyone buys food in local bazars, and the food… food was very traditional, locally produced, freshly cooked and full of rich flavour. However, for my palate, it was at times a bit too spicy, too deep-fried and more often than not too sweet, since the only flavour of sweets seemed to be an overwhelming sweetness. But regardless of the exterior differences of the country, the most striking impressions were the massive levels of poverty, the immense gender inequality and remarkable human rights violations, especially regarding females.
According to a United Nations classification, Bangladesh is still considered one of the world's least developed counties, although a World Bank report notes that "Bangladesh has maintained an impressive track record on growth and development". The poverty dropped by one third while life expectancy, literacy and food per capita intake increased. Still, a complex political situation, high levels of corruption, as well as social and developmental challenges are still present. Even though the country has established a fragile democracy, ordinary citizens rarely have a voice in the political process. Being poor, having little knowledge of how to approach authorities and with limited resources to raise their voices for their own rights in one of the most corrupt societies, often means that the poor people's, particularly poor women's, access to public welfare is an ever present challenge.
One of the prominent issues for my western eyes were the double standards based solely on gender. Simply because one is born female, one has much less freedom and possibilities in life regardless of one's class or social status. The great majority of the decisions will be made for her by someone else, usually by her father, then her husband (who will also be chosen for her) and finally by a son, who will be obliged to support and provide, as a woman would very rarely have a job with a salary. This, I learnt later, is a usual practice, that has been produced and reproduced for many generations with little questioning and objection. Both genders usually comply with those unwritten rules and norms, as it is a part of tradition which has been significantly influenced by Islam.
These unreasonable inequalities have been the most difficult for me to observe and also conform to, as for the time being I was just a guest, and as a researcher had no ambition or right to change and challenge their traditions.
However, visiting both project areas was not a depressing experience at all. I was so impressed by witnessing and hearing the stories of the brave women, whom, due to the Gono Kendra project, had an opportunity to start moving the wheel of their lives themselves. The stories I was told shook me. Stories of young teenage girls who have been married off at the young ages of 12, 13 and 14 due to immense poverty, with no education and no other possibilities. And now, after some years, being mothers of several children themselves, they have joined the Gono Kendra project, regardless of the family resistance, hoping to improve their own and their families lives. And the great majority of them did improve in a considerably short period of time. They have gained knowledge and new skills: some of them have started their own small tailoring businesses and due to the self-saving program all of the members have saved significant amounts of money which they reinvest or use for family affairs.
This trip has been my inspiration and motivation to join Bandhab because I have seen how much they are in need for assistance in order to be able to change their lives and how grateful, warm and loving they are towards Bandhab organisation.
Besides countless warm smiles full of grateful words, on behalf of Bandhab, we received golden appreciations. Dear members of Bandhab, thank you for supporting the organisation, because it does make a positive difference in the world!
---
Raminta's besøg i Bangladesh 2016
I foråret 2016 fik jeg lejlighed til at kombinere min master opgave med en kæmpe rejse oplevelse: Jeg gennemførte en 6-ugers rejse til Bangladesh for at indsamle data om Gono Kendra projektet.
Da projekt områderne ligger i to dele af landet – et i den nordlige og et i den sydlige del, skulle jeg rejse gennem det meste af Bangladesh. På den måde oplevede jeg meget forskellige egne og mødte meget forskellige mennesker.
Først opholdt jeg mig nogle uger i verdens mest overbefolkede, beskidte, forurenede og støjende by: Dhaka. Derfra oplevede jeg kontrasterne, da jeg rejste ud til en afsides liggende landsby, Joypurhat, som er omgivet af grønne rismarker. Derfra tog jeg videre til Bagerhat, hvor jeg for første gang så fiskefarme og mangrove skove.
I begge områder blev jeg overvældet af indtryk af de seje kvinder, der havde fået mulighed for at forbedre deres tilværelse gennem Gono Kendra projektet.
Jeg hørte historier om ganske unge piger, der var blevet bortgiftet i en ung alder og allerede havde fået flere børn. Unge kvinder som ingen uddannelse havde fået og ingen andre muligheder, men nu havde meldt sig til Gono Kendra trods familiens modstand i håb om at kunne forbedre deres tilværelse.
Mange af disse kvinder havde i løbet af kort tid opnået viden og nye færdigheder. Gennem lån i Gono Kendra'ernes opsparings program var de blevet i stand til at starte små forretninger, og dermed at kunne supplere familiens indtægt. Jeg så mange eksempler på, at Gono Kendra projektet havde gjort kvinderne i stand til at få en bedre tilværelse, og jeg oplevede deres varme og taknemmelighed overfor Bandhab.